AOMEI Brings Small Business Backup Solutions
By:
Doris
August 30, 2018
Losing data can be catastrophic for people who are running a business. In our article about data loss statistics 2018 have shown that "60% of companies that lose their data will shut down within 6 months of the disaster". Even if they could recreate these losing data such as documents, reports, contracts, videos and more, it's going to be an expensive, time-consuming job. Fortunately AOMEI – the easiest backup keeps data safer, released advanced centralized backup software to bring small business backup solutions make that all much easier. They also released new version of AOMEI Backupper that available to be controlled by AOMEI Centralized Backupper.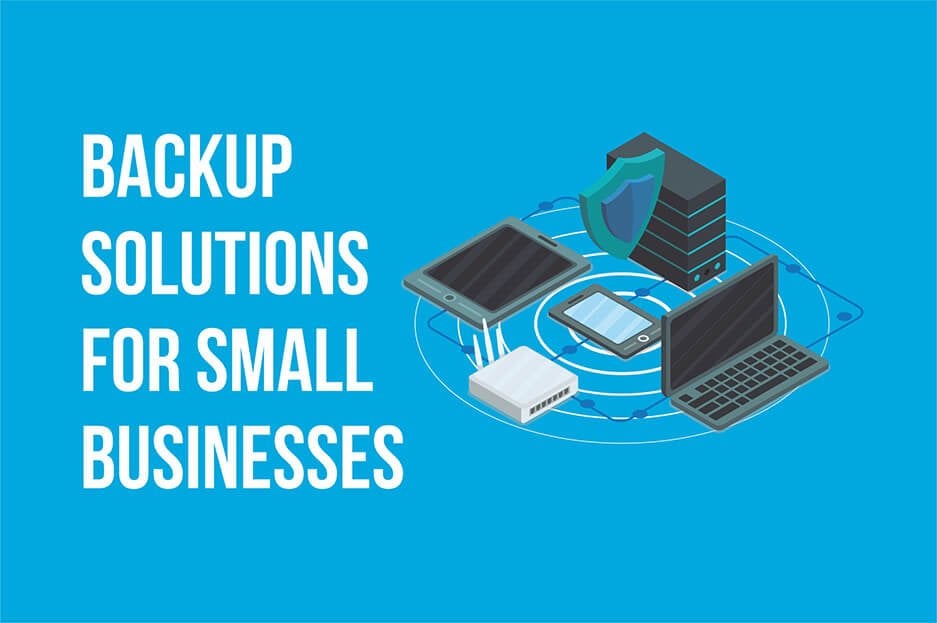 Backup solutions for small business is crucial
Today's businesses generate more data than ever before. Many common causes can lead to data loss, such as hardware failure, accidental error, theft, virus ransomware affection, or disasters like fire, flood or only dropped coffee mugs. If one business unluckily hits by a ransomware, it will possible lose every database including contract, spread sheet, employee record, email and etc. All valuable documents are locked with unbreakable encryption. Countless hours of efforts have been for naught.
Big business has reportedly lost hundreds of millions of dollars since the ransomware, while the impact on small and medium sized business goes largely unreported and certainly underappreciated. Data loss is a headache for every personal user and much more serious for business. The best way to prevent business data loss is to have it backed up. Thus small business backup solutions are essential when it comes to making sure that any start-up or smaller-scale venture runs smoothly.
Backup strategies for small businesses
Most small business owners know the importance of data backup, however many still use solutions that aren't tested regularly, are finally found invalid and cost much. To build a data backup strategy for a small business, there is a simple principle: don't put all your eggs in one basket. That is to say make more than one backups for your small business. And two plus one approach should be the best small business backup strategy.
For critical data, businesses should make at least two full local backups, maintained on separate physical devices in different location. Popular methods include backup files to removable hard drives, SSDs, NAS devices etc. Having the copy in a separate physical location protects a business from fires, floods and other localized natural disasters. In addition, a third copy should be stored on cloud. This method should ensure that, even if faced with localized environmental damage, hard drive failure or theft, at least one copy of your data will still remain intact.
What's more, usually there are multiple PCs or servers with a small or medium business. It's better to have a central backup management console to monitor all clients' backup status and centrally modify and deploy backup jobs to multiple systems. Reliable centralized backup software could cut down backup administration costs and save much time.

To sum up, tips as follow:
Regular, reliable scheduled backup of your physical and virtual servers

Provide both local and off-site copy of your data

Reliable centralized backup management software
AOMEI offers reliable small business backup solutions
If you're an IT professional at a small business or an MSP (Management Service Provider) contracted to manage a small business' IT assets, choosing the right data backup solution can be a challenge. There are multiple backup tools available, you need backup software that's flexible, affordable and puts you in total control. AOMEI offers a data backup solution that works for small and medium businesses alike, help to keep your business data safe and secure while ensuring quick recovery in the event of a disaster.
AOMEI features some of the best-developed small business backup solutions on the market, from complete backup functions to the ability to clone and dissimilar hardware restore, to centralized backup management. AOMEI Backupper makes creating a reliable, fully automated backup routine simple, provides a wide range of hardware and media support and offers great value for small businesses. You can backup from Windows PC and Servers to local disk, external hard drive, CD/DVD, NAS or Clouds Client are all on offer.
The latest version of AOMEI backup software is also available to be controlled by AOMEI Centralized Backupper (ACB) – a centralized backup management tool that enables to create and manage backup tasks for all client computers in the network from one central management computer.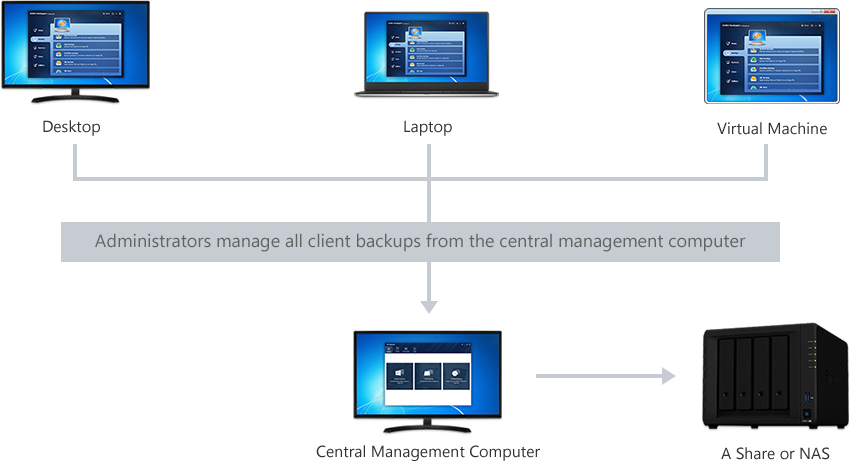 AOMEI Centralized Backupper (ACB) has three versions now: ACB Professional, ACB Server and ACB Technician, price separately $99, $299 to $599. Order process is secured by 256-bit SSL and 100% safe. You will get 90-day unconditional money back guarantee and free technical support. ACB Professional supports all Windows PC system and include AB Pro client for 10 PCs. ACB Server and ACB Technician support both Windows PC and Windows Server system. ACB Server includes AB Pro client for 20 PCs and AB Server client for 5 servers. ACB Technician includes AB Pro clients for 50 PCs and AB Server client for 10 servers. Besides, purchasing ACB Technician could provide charged technical service to other companies and individuals.
"It's critical for small and medium business (SMB) to have a single backup solution for their servers and computers, including virtual machine, to ensure that essential business-critical data and system can be restored quickly if needed," said David Ribeiro, senior network engineer at DRData Tech. "AOMEI provides SMB's a reliable backup solution to safeguard all our key data and system, and can certainly be relied upon to get the job done."
Conclusion
Small business backup solutions are indispensable for any start-up or smaller-scale venture. Luckily AOMEI offers most versatile, reliable and affordable plans for small business on the market make that all much easier. AOMEI is always helping you on the way to secure your business data.