What Is the Definition of "Personal Data" in the GDPR?
By:
AOMEI
May 28, 2018
The new General Data Protection Regulation (GDPR) will be fully carried out across Europe Union on May 25th 2018. The changes of GDPR will affect IT industry in the Europe in many ways, also companies outside Europe interact with European will be affected too.The GDPR strongly stresses the rights of the individual data. But what does 'personal data' exactly mean by now and what is the change when the GDPR starts effect? One thing we must say is that all AOMEI software does not collect any real personal data, we just collect some data which cannot be tracked to one personal or one IP.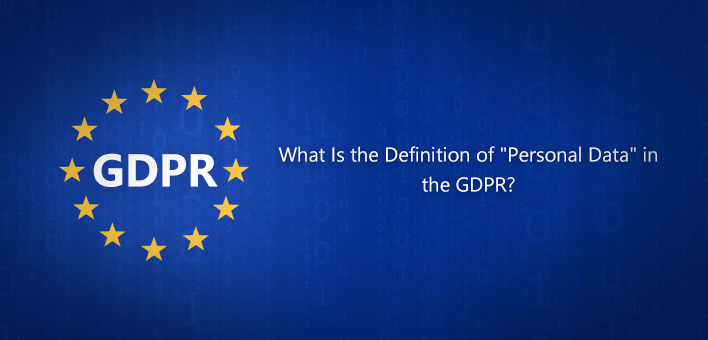 The Current Definitions Of Personal Data
According to EU Directive on Data Protection, personal data is mostly defined as: Any information relates to a identified or identifiable natural person. So for example, we consider user ID number is personal data, because we can find the name of the user on a database by ID number.
The GDPR keeps the old definition of personal data as "Any information relates to a identified or identifiable natural person."Besides, the new GDPR adds new identifying types of data to its definition. This includes:
Names

Location data

Online identifiers
Location data is associated with data that has any kind of geographic position attached to it. Location classed as personal data because we could identify where a person lives, works, and daily entertainment range through location data.
IP addresses, cookie strings are considered as online identifiers. For example, as an IP address can be used to locate where an individual is, it is apparently personal data.
Sensitive Data Expands Its Categories
Sensitive data refers to a more specific type of personal data when compares to personal data, we should treat sensitive data with extra protection and care. Some new example definitions of sensitive data are:
Racial or ethnic origin

Political views

Religious beliefs

Trade-union membership

Health or sex life
GDPR gives more protection to sensitive data while two new information types are added to this sensitive data too: genetic data and biometric data.
Genetic data specifically refers to gene sequences, which are used for medical and research purposed. Biometric data includes fingerprints, retinal and facial recognition.
More and more buildings start using fingerprint entry systems and facial recognition program, it's obvious to see how new definitions of GDPR personal data affect our life.
The Impact On Businesses
1. It is absolutely necessary that companies think about how they deal with data and its protection under GDPR. Although it might cost much to first implement, businesses should take care of pseudonymisation of personal data to take advantage of some of the relaxed supervision and incentives for data processing.
2. It will also improve risk mitigation and compliance management, reduce the possibility of data leakage and subsequent prosecution - which can be very difficult under the new GDPR.
3. For companies outside the EU with a large number of digital businesses, companies that interact with European citizens online will have a major impact on social media, analytics, and advertising. These are just a few areas that need further investigation.
4. Overall, there is a clear need for a full understanding of personal data and the content involved, revisiting the program using the expanded definition, updating the process and improving the security of the system.
Is your business ready for the coming GDPR? I believe we have the resource you need to prepare for the GDPR.
About AOMEI
AOMEI - the easiest backup keeps data safer, is an up-and-coming software company founded in 2009. AOMEI is a freeware-based company, striving to make 81% of the users free to use their products. With professional and reliable support service, AOMEI products are favored by users around the world. Today AOMEI solutions are available worldwide through a global network of service providers, distributors and resellers. AOMEI continued to grow and develop while bearing in mind their mission - Always Keep Global Data Safer, and strive to let billion of users benefit from AOMEI Products, and make AOMEI become the industry benchmark.