The best centralized backup software for enterprises 2019
By:
Doris
July 14, 2020
Almost every enterprise has its own IT system relies on which to run business in modern society. Data loss is quite a common problem in the field of information technology and it will cause a great loss and damage.
Reasons that may cause data loss could be various, such as hard disk crashes, virus attack, software and system crash and so on. The best way to prevent data loss is do a backup for your entire IT systems regularly, including servers, computers and virtual machines, to ensure that essential business-critical data and system can be restored quickly if something unexpected happened.
Usually there are multiple PCs or servers within an enterprise, from small to medium to large business. IT administrators would want to backup multiple computers simultaneously from a central backup management console instead of backup one by one. Reliable centralized backup software could cut down backup administration costs and save much time.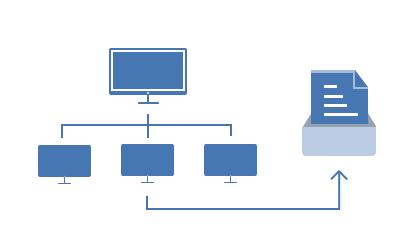 Best Centralized backup software – AOMEI Centralized Backupper
There are various centralized backup utilities available in the market. Looking for a versatile, reliable and affordable backup plan for your enterprise? AOMEI Centralized Backupper is a good choice, which helps business to create plans on one console and quickly deploy tasks to all client computers within LAN at minimum cost.
AOMEI Centralized Backupper works with Windows 10, Windows 8/8.1, XP, Vista, Windows 7 and Windows Server 2003/2008/2012/2016, Windows Home Server (WHS) 2011 and Windows Small Business Server (SBS) 2011, both 32 bit and 64 bit. There are four editions available according to your needs: Professional, Server, Technician and Ultimate. What's more, Licenses for AOMEI Centralized Backupper (ACB) on client machines are already included in ACB. And the ACB Ultimate Edition offer three choices to purchase with different price: mange ultimed PCs & servers; mange unlimited PCs; No client.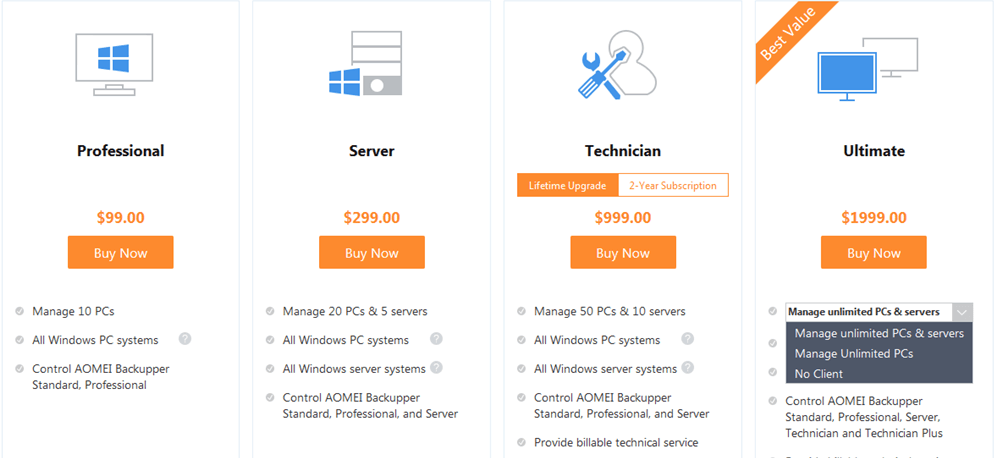 How to create centralized data/system backup?
Following is the instruction of create centralized system backup. So, you can download the trial version to follow the instructions to create a centralized backup image: https://www.ubackup.com/abnet/quick-start-guide.pdf
You will create centralized system backup image successfully with this centralized backup software after the above steps. The backup image you created with AOMEI Centralized Backupper is completely compatible with all standalone editions of AOMEI Backupper. You can restore system/disk/partition via AOMEI Backupper on each client computer.
Last words
AOMEI provides the best centralized backup software to safeguard all key data and system; makes creating a reliable, fully automated backup routine simple and offers great value for enterprise. Get a copy of this centralized backup management tool to backup for your entire IT system to ensure the security of your business now!
About AOMEI
Found in 2009, AOMEI is an up-and-coming software company that focuses on data security. With professional and reliable support service, AOMEI products are favored by users around the world. Today, AOMEI solutions are available worldwide through a global network of service providers, distributors and resellers. AOMEI continued to grow and develop while bearing in mind their mission - Always Keep Global Data Safer, and strive to let billion of users benefit from AOMEI Products, and make AOMEI become the industry benchmark.
Buy AOMEI Crntralized Backupper here: https://www.ubackup.com/acb-buy.html.
Learn more about and joint the AOMEI Partner Program here.