AOMEI Signs Software Sources Ltd as Reseller for Israel Market
By:
Doris
July 14, 2020
AOMEI Tech, the first class backup software provider, has signed a partnership agreement with Software Sources Ltd., a highly trusted industry leader in software, hardware and communications component market in Israel, to represent the AOMEI product lines in Israel market. Based on the agreement, Software Sources will leverage its network to open sales channels for AOMEI's most important products: AOMEI Backupper – the easiest data backup software in the industry.
"We are local Israel Company professional in software marketing since 1992. Currently we have signed partnership and re-seller agreement with so many companies," Said Meirav Julian, purchasing manager of Software Sources, "we are looking for sign partnership agreement with more promising companies, and AOMEI Technology is one that we exactly need." "AOMEI as the easiest backup service provider, we believe that their backup software can be great products for Israel. It has many amazing features that we tested in our end and get very good feedback."
Software Sources Ltd. is a highly trusted industry leader in software market in Israel with a team of well diversified and experienced individuals. Their mission is to deliver leading software products around the globe in rapid time with excellent service and a competitive price. Owin Wu, AOMEI General Director, said "We are proud to be partner with such an industry-leading software product Distributor and Reseller, also believe our products will be popular in their market."
About Software Sources Ltd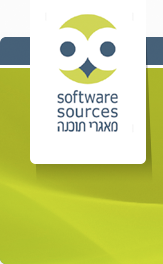 Software Sources Ltd. is a major software product Distributor and Reseller, with more than 8,000 customers all over Israel. Their firm, established in 1992, is located in Ra'anana (north of Tel-Aviv), a rapidly growing hi-tech area. Over the years they have focused on distributing quality products in worldwide with competitive prices and attentive service. They specialize in working with governmental organizations, academic institutes and hi-tech companies, as well as private customers. It is a certified supplier of Israel's Ministry of Defense, and is a Microsoft Education Authorized Reseller.
Additional Resources
Want to be AOMEI partner? All AOMEI software is available from resellers. Welcome to join and register to the AOMEI Reseller Program without minimum sales volume requirements now.