AOMEI Partners with MICRO15 to bring AOMEI software to France users
By:
Doris
July 14, 2020
AOMEI Tech Ltd., a global outstanding provider of data backup and disk partition solutions, and MICRO15, a trusted computer support and maintenance company and in France, announced a joint collaboration to help companies as well personal users in data backup and partition management. AOMEI's products are available from MICRO15 channel as a new offering to its partners and end user consumers, including AOMEI most important products: AOMEI Backupper – the easiest backup software in the market and AOMEI Partition Assistant – the safe and reliable partition tool.
MICRO15 have been a successful IT partner for their customers for over 15 years. They have two stores respectively located in Cantal and Haute Loire. "We are pleased to work with MICRO15 to grow our footprint and develop a new sales channel for our market-leading solutions," said Owin Wu, Marketing Manager of AOMEI Technology Limited. "AOMEI offers reliable products and comprehensive service, and MICRO15 provides a unique marketing and sales channel for AOMEI in market where they are present, it's a strong union that combining the strengths of both sides. At the same time, customers in the region benefit from better support, smoother communication, and improved operational efficiencies when buying AOMEI software."
"Nicolas Laude, Director of IT Manager at MICRO15, stated "Ensuring the safekeeping of precious data is the priority of every user whether they are a home user or at enterprise-level." Adding that "We are glad to cooperate with AOMEI, such as respectable company that dedicated to data security, to provide our users with the best choices in making sure their data remains in safe hands with trusted & dedicated backup & recovery software."
About MICRO15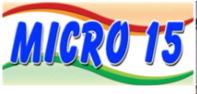 For more than 15 years, MICRO15 offers a full range of equipment and services in the fields of IT, communication, office automation, and stationery. They have two stores, located in SAINT FLOUR (Cantal) and BRIOUDE (Haute Loire). MICRO15 is able to offer reliable and efficient solutions to individuals, businesses, professionals, local authorities, schools etc. and take charge of the creation, maintenance, optimization of their information systems and Management.
Additional Resources
Want to be a partner with AOMEI? Join and register to the AOMEI Reseller Program without minimum sales volume requirements or just send an email to us at any time.