Windows Desktop and Explorer
As you may know that the evolution of graphic interface operating system to today takes so much efforts of the computer engineers so that we can have such a beautiful and user friendly interface operating system. Thereafter, you can perform operations directly from desktop and do not have to endure the complex command lines. This is a very great progress which makes personal computers available to average people.
However, today you may still experience a problem of that you cannot find a graphic interface Windows recovery tool which builds-in necessary tools and even support adding 3rd party portable tools freely. Especially, when you encounter different kinds of system goes wrong problems, you will strongly desire that you have such a portable Windows recovery tool in your hand, then you can boot from the tool to fix possible errors without too much effort.
This will no longer be an extravagant hope, if you possess AOMEI PE Builder. The Windows PE environment created by AOMEI PE Builder offers the ability for you to perform operations from a window desktop and you can even explore files like you are in the normal Windows. At the meantime, it builds-in AOMEI Partition Assistant, AOMEI Backupper and Windows Recovery Environment (the repairing tool of Windows). What's more, it allows you to add 3rd party portable tools into the Windows PE. It would make your life easy to bring your computer back to normal from disasters. Below is the appearance of Windows PE environment created by AOMEI PE Builder: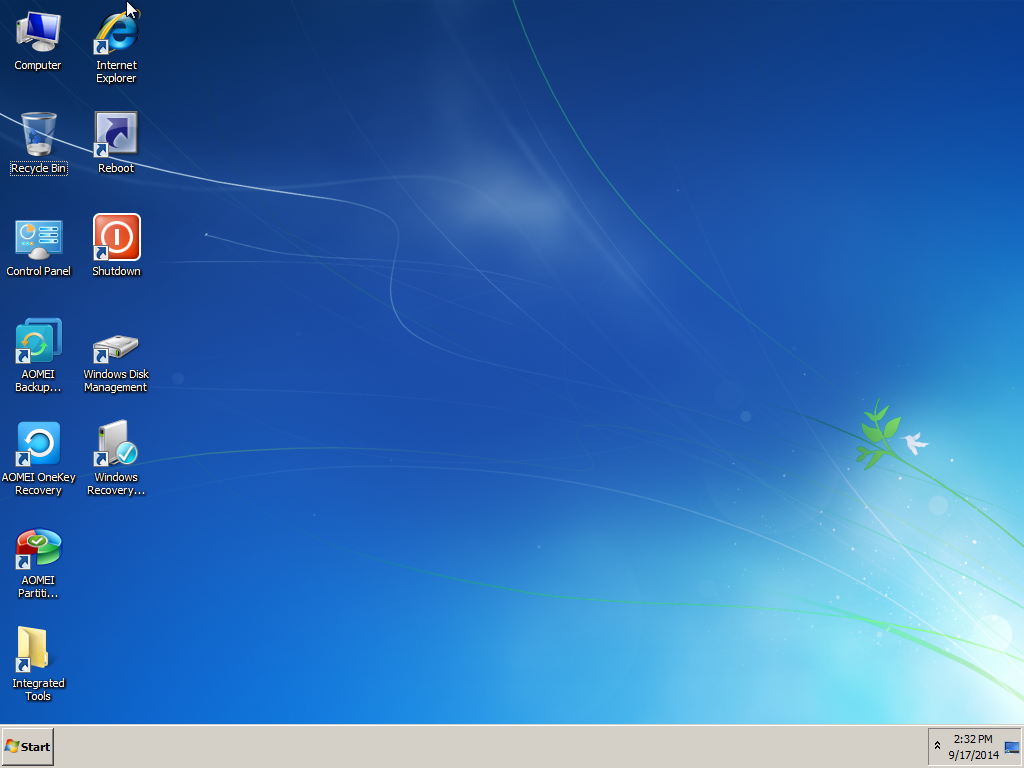 The Windows PE you created is based on your Windows Operating System, so the appearance looks like the same as the OS you have. You can open the applications by directly click it and you can explore files, add or delete files with the Explorer and so on.